Get ready for a fun and educational Valentines Day for kids with these free Valentine's day printables, craft ideas, worksheets and more! We have valentines day activities for preschoolers, toddlers, kindergartners, grade 1, grade 2, grade 3, grade, 4, grade 5, and up! Simply print the valentines day worksheets for some memorable valentines day math, grab the printable for an engaging February activity, try one of our outrageously fun valentines day science experiments, or try one of our fun play recipes!
Valentines Day for Kids
I love making learning fun by using fun seasonal themes and holidays throughout the year. Using creative teaching methods helps keeps kids engaged and eager learners, plus they remember more too! We have tons of free valentines day worksheet and printables for toddler, preschool, pre-k, kindergarten, first grade, 2nd grade, 3rd grade, 4th grade, and 5th graders too. scroll below to find our fun valentine activity ideas, fun heart science experiments, Valentine's Day themed literacy, heart math, games, and so much more!
Valentines Day Alphabet
Valentines Day Language Arts
Valentines Day Math
Valentines Day Science
Valentines Day Experiments
Valentines Day Activities
Valentines Day Crafts & Activities
Other Valentines Day Printables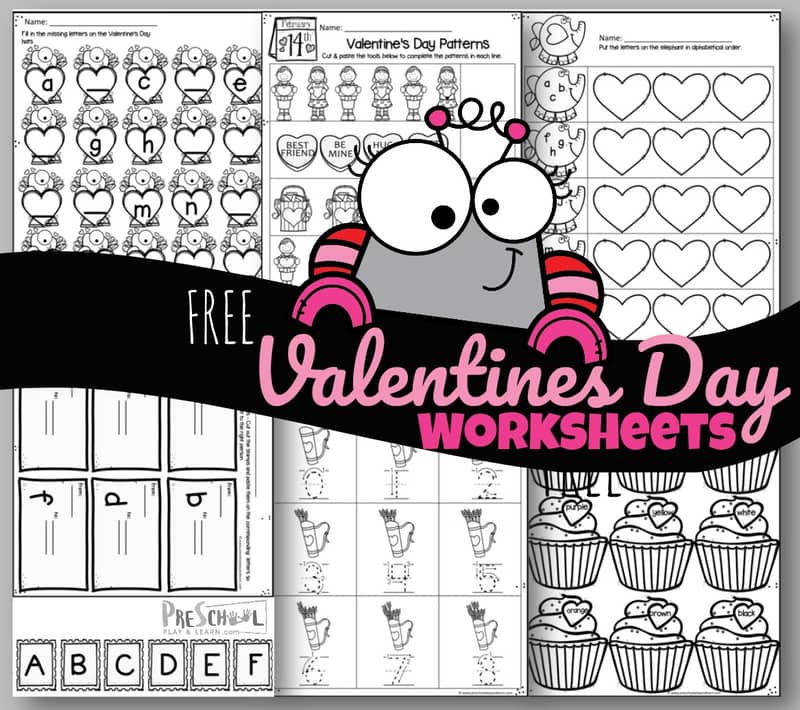 Practice a variety of math and literacy skills with these Free Valentine's day worksheets for preschoolers! There are over 30 different sucte, clever activities for Toddler, Preschool, and Kindergarten age kids!
Plus don't forget to grab these valentine books for preschool or take a peak at our Preschool Valentine Ideas or our Valentines Day Theme for Elementary age students.