Learn about famous artist jackson pollock for kids with this fun art project! Kids will love the famous messy paintings made by this modern artists. What's more – they will love creating their own jackson polluck art for kids with this fun project. Try this painting activity for kidsfrom kindergarten, preschool, pre-k, toddler to elementary age studnets in first grade, 2nd grade, 3rd grade, 4th grade, 5th grade, and 6th graders too.

Jackson pollock for kids
I will admit, I am not very into abstract art. And in my head I am thinking – see even my  kids can make a painting just as good. But I want to expose my children to a wide variety or styles without interjecting my prejudices – so I kept those thoughts to myself =-) I do have to admit it was FUN  to flick and drip paint at our canvas – really fun!
Jackson Polluck Art for Kids
Jackson Pollock was an American painter and major figure in the abstract expressionist movement. He is known for his unique style of painting – dripping! He liked to make LARGE canvases where he would drip or flick paint. Although figures and shapes are not present in his art, critics say there is a lot of expression and movement. If you are not familiar with his work here are a couple examples of his art: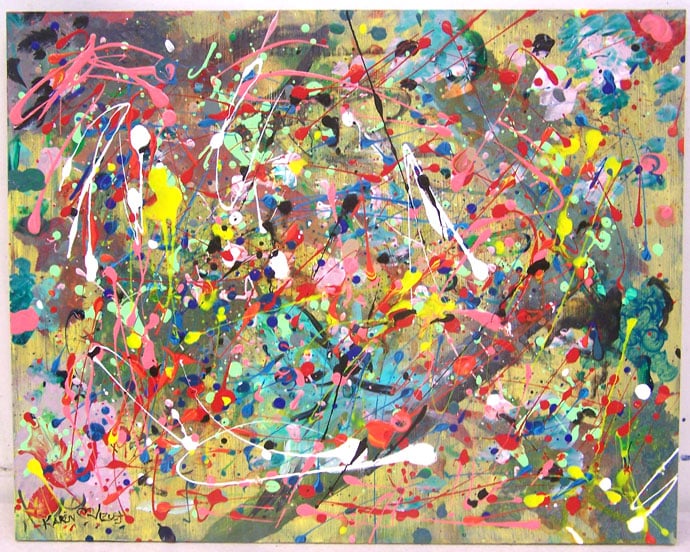 First we read about Jackson Pollock:
Famous Artists for Kids
Then we got to paint like Pollock! I decided it would be best to set-up outside since the idea of paint being dripped and flicked sounded messy – that was a GOOD call! If you try this (and I highly recommend you do) please do it outside with washable paint!

Famous messy paintings
I set out our washable Crayola paint and a variety of brushes. They each had a large easel size sheet or paper to drop and flick on. Within a couple minutes Minnie decided she preferred traditional painting and went about painting in her own style.

Goofy on the other hand really enjoyed this style. He actually developed his own style by throwing the brush at the paper. I love his creativity and spark!

After taking some time for Goofy to become familiar with the style and develop his own flair – I gave him a canvas to create on. He loves creating art on canvas – it is more permanent =-)
Here is his final piece of art. He not only enjoyed making the art, but surprised me by really liking the pictures of Pollock's art too.
Grab our artist report to help kids write down what they learn about famous arists and add a picture of their art project to make a fun keepsake of their homeschool art appreciation class.
Famous artists for kids
Ready to learn about more famous artists with children? Check out these projects: